How does a mobile phone booster work
The operation of an indoor GSM signal amplifier or Repeater
Technical explanation
Your mobile phone signal is transmitted by electromagnetic waves and creates a communication link, De reden dat dit niet lukt ligt vaak aan de de bouw, your location in the building or insulation of this building, such as a cellar or basement, but also your home, restaurant or office.
The distance from the transmission tower often also plays a role, zeker als u zich in een door de telecom providers bestempeld buitengebied bevindt.
Explanation and installation video multiband 2G, 3G and 4G
GSM signal indoor or indoor amplifiers can solve these problems by placing a signal amplifier with an outdoor antenna and an indoor antenna where the amplifier spreads the indoor signal, This signal is therefore the outdoor signal received by the outdoor antenna via the GSM amplifier and your indoor antenna to be forwarded to your mobile mobile phone, with the result that you can be reached again for your family, friends and customers. met als regel dat u buitenontvangst goed is!.
You should then think of at least 3 dashes. De reden hiervan zijn de kabels tussen de antenne's en versterker hierdoor verliest u z'n 8-10% the outside signal. There are better cables (Hirschmann) te verkrijgen en ook losse N connectors.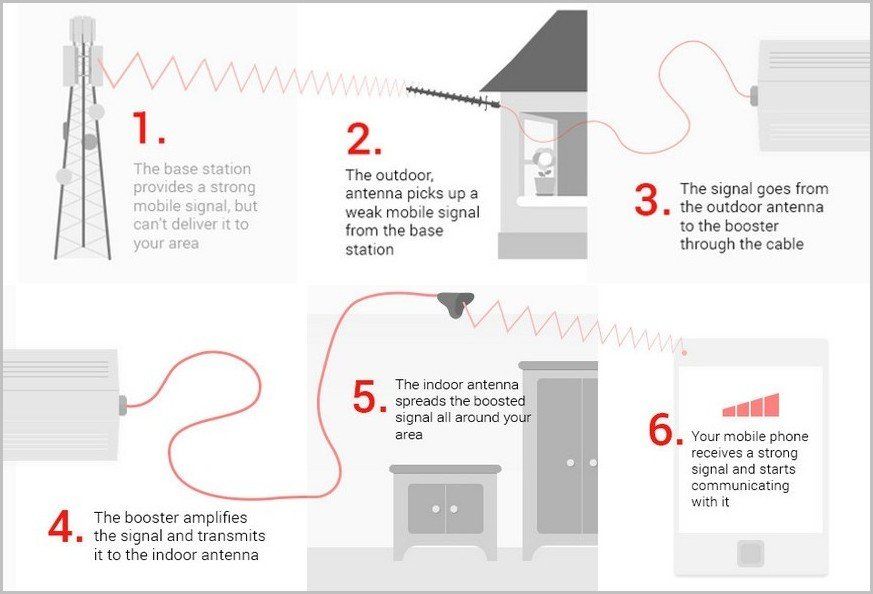 Which mobile amplifier (cellphone amplifier) is suitable for me?
Which Mobile amplifier (booster) you need strongly depends on the frequency band of your provider such as KPN, T-Mobile, Vodafone or between companies like Robin Mobile, Tele2, Ben etc.
KPN and Vodafone work on the 900Mhz band in the Netherlands and T-Mobile on the 1800Mhz bands. 3G or 2100Mhz is the same for all. 4G is only used for data and is therefore not necessary to make good calls with your mobile phone. In de toekomst zou dit wel mogelijk moeten zijn ze noemen dit Voice over LTE, abbreviated with VoLTE.
Multiband Amplifiers
The reason why nowadays almost alone 2 of 3 bands frequentie mobiele indoor versterkers worden verkocht is dat KPN en Vodafone ook spraak over 3G (2100Mhz) to allow. 4G of of (800 of 2600Mhz) are difficult frequencies because the coverage in the Netherlands is not yet good and only allows data communication. So if your phone indicates 4G or LTE, you must reset the phone to 3G in order to use a multiband amplifier that does not support 4G.. Dit komt in de regel u batterijverbruik ten goede en garandeert de goede werking van de multi-band versterker.